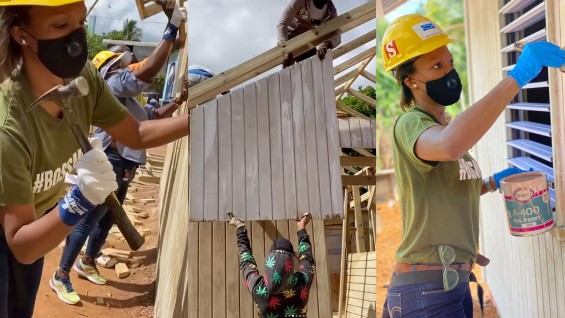 URGE added another powerful partnership with two of Jamaica's leading philanthropic institutions: BossMom and Food For The Poor (FFTP)! Supporting their BossMom Builds program, the collaboration will help construct one house each for three mothers (in business) to call home, and build a better life for their families. The initiative will hand over to each BossMom-in-need a furnished, stocked and move-in-ready, turn-key home with small appliances, groceries and amenities included. In doing so, it will improve for these mothers their capacity to live up to their potential, and to feel more confident about the future of their families and also that of their businesses.
Each house will come with:
Septic and water tanks
Mini solar panel to provide basic lighting
Internal doors for bedrooms and bathroom
Kitchen sink and cupboard
Inside bathroom facilities to include toilet, sink, and shower
Guttering for water harvesting and more
As well as:
Beds (twin beds)
Gas stove
Dinner table and other furniture
Refrigerator and other appliances
Groceries
Clothing & accessories for the family
School supplies
Gas cylinder
Electricity vouchers
The BossMom recipients will be decided by the FFTP selection process in collaboration with BossMom founder, Michelle Gordon.
It will be "a place she is proud to call home—a place her children know as their safe space," says Gordon. "I can't think of a more beautiful Mother's Day gift for any mom."
Since inception, the charity has built 36,139 homes island-wide, with 360 homes built in 2020. The homes are equipped with indoor sanitation, solar-powered lighting, a gas stove and furniture. There is also a loft space for greater sleeping capacity.
BossMom began in 2016 under the B3 Momtrepreneur brand, creating a network for moms in business. BossMom benefits from more than 15 years of activity and experience in the parenting field, having been steadily built across various brands since the creation of our first parenting platform in 2005. We offer the unique ability to bridge the gap between brands/companies and mothers, who are described as 'the most powerful influencers on the planet.'